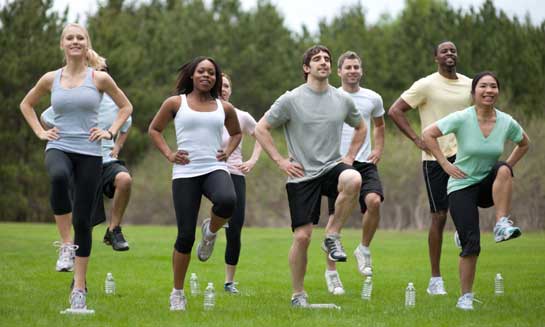 For anyone who has ever wanted to get into shape, it can be a daunting thing to get started. This is because most of us do not have the knowledge about exercise and training that we need to plan workout sessions and the like. This is why turning to experts who do know and to training sessions by these experts can be a great idea. For many people, group training is the way to go, though it is not for everybody. If you are interested in group training to help you get into shape, there are a few things you should keep in mind.
Camaraderie: One of the best things about group training is that there are a lot of people who will be going through the same exercise process. You will not feel nearly as isolated as can sometimes happen if you train with a personal trainer. For many people, this is the main reason to choose group training. The group bolsters each other and gives each other the encouragement they need to keep going.
Less Individualization: Of course, one of the things that group training will not offer, is individualized attention. You will get some, but not like you would with a personal trainer. For some people this is not an issue, but if you are concerned about not getting enough individualized help, group training might not be for you. It is very important to keep this in mind.
More Affordable: Group training is much more affordable than personal training. You will be splitting the fees among a large group of people, so this can allow you to have more sessions more often. This can be a huge benefit for people who want to get into shape as quickly as possible. If you do not have the kind of money for personal training in a regular manner, turning to group training is the next best thing.
Fun Experience: Group training can be a much more fun experience than personal training. There is usually music and lots of conversation, adding to the friendly atmosphere. If you are following a serious exercise regime for the first time, you will want to consider this option since you will be avoiding getting bored or frustrated, which can sometimes happen with a personal trainer. For people who want to have a great time as well as get into shape, group training can be the perfect option with which to get started.
Less Flexible Schedules: When you are part of a large group of people, you will have to stick to the agreed schedule. With personal training you can reschedule much more easily, so this is something that you also want to consider if you are very busy.
If you want to have a great time exercising, you should consider group training. It can offer the kind of motivation that you need to stick to the exercise routine and it can ensure that you start seeing the results you want. A gym like Fitness 4 Less offers some of the best group training classes in the area.